Barefoot Resort: Yacht Club Condo Rentals
4980 Barefoot Resort Bridge Rd, North Myrtle Beach, SC 29582
Waterway View 3BR / 3BA Units - Accommodates up to 10!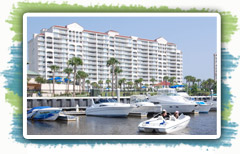 Amenities at this Golf Condo Rental Include:
Near Barefoot Landing
Overlooks the IntraCoastal Waterway
Balcony off of Master Bedroom
Huge Outdoor Pool
Washer/Dryer In Unit
Fully equipped kitchen

NON-SMOKING UNITS
Add Barefoot Resort condos at the Yacht Club
to your package
Condo Rental Overview
Year after year golfers choose Barefoot Resort for their golf trip accommodations. With so many luxurious amenities at an affordable price, who can blame them? The North Tower and Yacht Club are two of the finest buildings encompassed within the Barefoot Resort community. Located directly off of Highway 17 in North Myrtle Beach, South Carolina, this facility has so much to offer golfers and non-golfers alike.
BAREFOOT RESORT GOLF COURSES: Love, Norman, Fazio and Dye.
With stunning views of the IntraCoastal Waterway, easy access to boat and jet ski rentals, as well as close proximity to local shopping - it's no wonder why this is one of the top chosen resorts along the Grand Strand.
Photos of Barefoot Resort
Our Golf Accommodation Policies
Please read our Policies and Procedures located on our Condolux.net website about rentals before calling. Thers is information about refunds, cancellations, reservations, check-ins and other points of interest.