River Crossing at Barefoot Resort
6203 Catalina Drive, North Myrtle Beach, SC 29572
Golf Course Condo 2 BR 2 BA Units - Accommodates up to 6!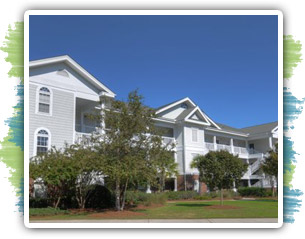 Amenities at this Golf Condo Rental Include:
Outdoor Pool
Barefoot Golf Courses on-site
Outdoor Cook-out Area
Washer/Dryer In Unit
Fully equipped kitchen

NON-SMOKING UNITS
Add River Crossing at Barefoot Resort to your Myrtle Beach golf package
Description of this Golf Condo Rental
River Crossing is an upscale condo rental option for golfers, located in the renowned North Myrtle Beach community of the beautiful Barefoot Resort.
The River Crossing at Barefoot Resort community is located close to the beach and even includes a free shuttle bus to the beachfront during the season. This well-kept community is a pleasure to stay in and the condominiums are set in beautiful lush scenery for you to enjoy. With golf courses on your doorstep and the fabulous marina if you want to go boating, there is so much to do when you are situated in the heart of North Myrtle Beach, SC.
Photos of River Crossing at Barefoot Resort
Our Golf Accommodation Policies
Please read our Policies and Procedures located on our Condolux.net website about rentals before calling. Thers is information about refunds, cancellations, reservations, check-ins and other points of interest.