Barefoot Resort Golf Package
From the top names on the top of their game.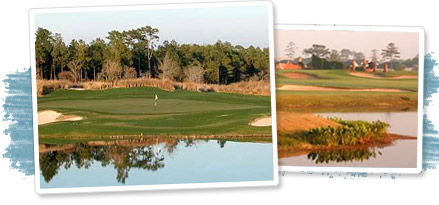 Where else can you find such a diversity of world-renowned golf course architects in one golf package? The Barefoot Golf Package features courses from 4 key players of our time -- Pete Dye, Tom Fazio, Davis Love III and Greg Norman, each with their own style, functionality and design that leaves you wanting more. Barefoot Resort prides themselves on keeping their courses in top shape throughout the entire year, which is why this golf package is one of the most popular in the area.
Built on 2,377 acres, each of these courses has a unique design. You may be playing a Fazio course one day with wetland views, live oaks and native grasses, but the next you could be playing on the semi-private Dye Club with his famous pot bunkers and elevation changes.
Barefoot Resort & Golf is located in North Myrtle Beach, making it a short drive from any Myrtle Beach resort or vacation home along the Grand Strand. While you are waiting for your tee-time, feel free to take advantage of the 30-acre lighted practice facility or grab breakfast before or lunch after your round of golf.
To top it off, the carts at all of these courses in our Barefoot Package feature GPS, showing you the layout of the hole, yardage info and even the distance you hit the ball!
Golf Courses Included:
Courses in this package have been awarded:
2017 North America Golf Resort of the Year - IAGTO
#1 Multi-Course Facility in Myrtle Beach
#1 Top 50 Courses in Myrtle Beach (Love Course)
#6 Top 50 courses in Myrtle Beach (Fazio Course)
#10 Top 50 Courses of Myrtle Beach (Dye Course)
#28 Top 50 Courses of Myrtle Beach (Norman Course)
Get a Full Quote for This Package
We usually respond within 24 hours with a full price (except the weekends). Full no obligation quote for your golf group!

Deposit of $100 per golfer is required to reserve a golf package.
Not subject to any additional charges unless changes are made to original package.
Rates are subject to change at anytime without notice.


Other Golf Packages you may be interested in: