BURNING RIDGE GOLF CLUB
The Author:
Golf Staff
Published:
June 20th, 2008
Last Updated:
April 28th, 2014
Even though this facility closed 18-holes on the West Course recently to the Myrtle Beach Real Estate boom, that did not stop the East course from winning 2006 Myrtle Beach Golf Course of Year and South Carolina Golf Course of the year.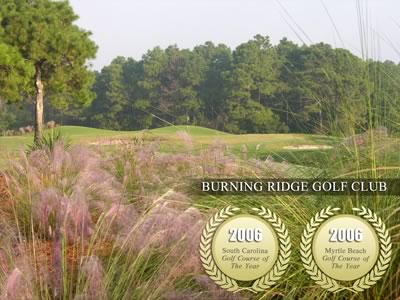 With an invite from the Classic Golf Group to come out and play, the golf course was in great shape and very well manicured. Although we did get rained out for the final 7-holes.
This Gene Hamm design which opened in 1980 features a Country Club atmosphere that recently underwent an extensive renovation. Also newly installed GPS on all carts make getting the yardage to the target a little easier. The bad thing is, that you still have to hit the shot once you get the yardage.
Burning Ridge can be added to any Condolux reservation with the Classic Golf Group Package or the Grand Strands Largest Golf Package, The Supreme Golf Package.