Crescent Keyes
1903 South Ocean Blvd, North Myrtle Beach, SC 29582
Oceanfront 1, 2, 3, 4 BR Units - Accommodates up to 10!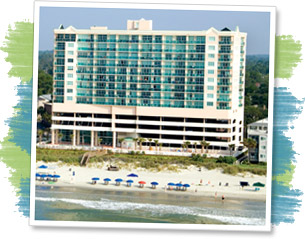 Amenities at this Condo Rental Include:
Beach front pool
Kiddie pools
Indoor pool
2 Lazy Rivers
Jacuzzis

NON-SMOKING UNITS
You can easily add Crescent Keyes to your golf package
Description of this Myrtle Beach Condo Rental
Crescent Keyes has all you would ever need packed into this remarkable 14-story building and features you wouldn't want to miss out on! Every amenity that is required for a perfect vacation are provided for you, so that you can focus on relaxation and comfort. This property features indoor and outdoor pools, two lazy rivers, kiddie pools, and a steamy hot spa that will tickle and rejuvenate your body while you kick back and relax!

For those that wish to step the tempo up a bit, a glass-enclosed fitness center is provided so that you won't miss out on all the things going on around you! Luxury and peace of mind is the key goal of Crescent Keyes. We have as few as 100 units located in the building for your privacy. The finest penthouse suites are available for you to use, and they afford you a blissful look into the calming waves of the great Atlantic Ocean. Why settle for something less than absolutely perfect when you can book your vacation getaway with Crescent Keyes!
Video of Crescent Keyes
Photos of this Myrtle Beach Vacation Rental
Our Golf Accommodation Policies
Please read our Policies and Procedures located on our Condolux.net website about rentals before calling. There is information about refunds, cancellations, reservations, check-ins and other points of interest.