Crescent Shores
17th Ave South and South Ocean Blvd, North Myrtle Beach, SC
Oceanfront 2, 3, 4 BR Units - Accommodates up to 14!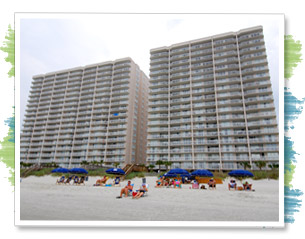 Amenities at this Condo Rental Include:
110 ft. Oceanfront Pool
2 Hot Tubs
Kiddie Pool
Lazy River
Indoor Pool
Fitness/Exercise Room

NON-SMOKING UNITS
You can easily add Crescent Shores to your Myrtle Beach golf package
Description of this Myrtle Beach Golf Condo
Find your superior condo resort vacation at Crescent Shores! These condos are not your typical, everyday units; these top-of-the-line rooms come furnished with luxury items that you can enjoy, such as granite counter tops in the bath and kitchen, and a unique marble whirlpool garden tub that you can sit back in and let your worries drain away! This is your chance to experience something you won't find anywhere else. The foyer is covered in sleek ceramic tile and sliding glass doors open up to a balcony that is all yours.

A picture perfect setting for you to enjoy! But that's not all! Take a trip outside and you'll find yourself tasked with some wonderful decision-making; there is a 110 ft. oceanfront pool, two Jacuzzis, a kiddie pool, a lazy river, an indoor pool, and fitness center for you to choose from! All of these, of course, are located on the beach for your convenience. So make your decision now, there isn't a wrong choice to be made when it comes to comfort, style and relaxation, so choose Crescent Shores!
Video of Crescent Shores
Photos of this Myrtle Beach Vacation Rental
Our Golf Accommodation Policies
Please read our Policies and Procedures located on our Condolux.net website about rentals before calling. There is information about refunds, cancellations, reservations, check-ins and other points of interest.