Laguna Keyes
5700 North Ocean Boulevard, North Myrtle Beach, SC 29582
Oceanfront 1, 2, 3, 4 BR Units - Ocean View 2 BR Units - Accommodates up to 10!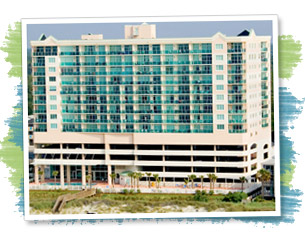 Amenities at this Condo Rental Include:
Wireless Internet Access
Five-level parking deck
Indoor heated pool
Oceanfront Pool
Private Exercise Facility
In-unit washers,dryers and jacuzzi tubs

NON-SMOKING UNITS
You can easily add Laguna Keyes to your golf package
Description of this Condo Rental in Myrtle Beach
In relation to it's sister resorts, Crescent Keyes, and Blue Water Keyes, the Laguna Keyes Resort reflects a similar, high degree of care for its units and the amount of amenities expected of all the Keyes resorts! There are subtle differences if one pays attention to detail. The Laguna Keyes condo offers excellent amenities that you can thoroughly enjoy, like a swimming pool located by the oceanfront, an indoor heated pool, a lazy river, two spas, several Jacuzzi tubs, washers and dryers to keep your clothing neat and clean, an exercise center to keep yourself in shape, and last, but certainly not least, a parking garage! Rest assured, that this magnificent condo will be everything you hoped and dreamed for in a vacation!
Photos of this Myrtle Beach Vacation Rental
Our Golf Accommodation Policies
Please read our Policies and Procedures located on our Condolux.net website about rentals before calling. There is information about refunds, cancellations, reservations, check-ins and other points of interest.