Malibu Pointe
1706 South Ocean Boulevard, North Myrtle Beach, SC 29582
Ocean View 1, 3, 4 BR Units · Accommodates up to 12!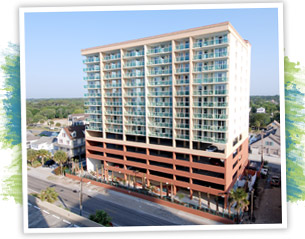 Amenities at this Condo Rental Include:
Deluxe High Speed Computer Center in 3 and 4 BR Units
Wireless Access in all units!
Large Outdoor Pool
Indoor Pool
Lazy River & Kiddie Pool
Hot Tubs

NON-SMOKING UNITS
Game room/Arcade
Granite Counter Tops
Master Bath Jacuzzi Tub
Tv & DVD in all bedrooms
42" HD DLP TV in Living room
You can easily add Malibu Pointe to your golf vacation package
Description of this Condo Rental in Myrtle Beach
In comparison to what other North Myrtle Beach resorts can provide, Malibu Pointe Beach Club beats the competition with a staggering amount of phenomenal amenities it has to offer! You have a choice 1, 3, or 4 bedroom living accommodations. In addition to all the normal amenities you'll find in other resorts, Malibu Pointe has wireless Internet service, computers in every unit, and a Deluxe Computer Center in both the 3 and 4 bedroom units. For those busy bodies that are always working, you can still enjoy your vacation while staying connected to the internet and remaining on top of important emails and work! You won't lose a wink of sleep while you are away!
Video of Malibu Pointe Resort
Photos of this Myrtle Beach Vacation Rental
Our Golf Accommodation Policies
Please read our Policies and Procedures located on our Condolux.net website about rentals before calling. There is information about refunds, cancellations, reservations, check-ins and other points of interest.