Ocean Bay Club
201 S Ocean Blvd, North Myrtle Beach, SC 29582
Oceanfront 2, 3, 4 BR Units - Ocean View 1 BR Units - Accommodates up to 10!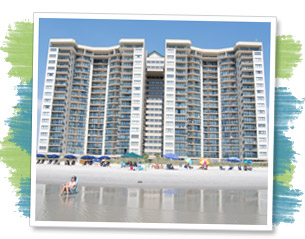 Amenities at this Condo Rental Include:
Lazy River
Kiddie Pool
Outdoor Jacuzzi
Large Outdoor Pool
Large Master Bath with Jacuzzi Tub
Washer/Dryer

NON-SMOKING UNITS
Large Private Balcony
Four Elevators
Abundant Parking
24 Hour Security Office
Well Appointed Kitchens
Spacious Living Area
You can easily add Ocean Bay Club to your golf package
Description of this Myrtle Beach Condo Rental
Expect to be "wowed" by the sheer amount of luxury that the Ocean Bay Club offers you upon every single visit! Search no further for your next Myrtle Beach vacation, for this resort has it all: an exceptionally abundant amount of amenities, a wonderful setting and location, and not to mention rave reviews by vacationers that have experienced everything the Ocean Bay Club has to offer! What more can you want in golf accommodations in Myrtle Beach? Boasting oceanfront views, equipped with elevators, large balconies, a superbly furnished kitchen, washer and dryer, two 60-channel TVs with VCRs, and a Jacuzzi in the master bath to top it all off.
But wait, that's not all! Expect to be amazed when you find yourself relaxing in the lazy river, allow your little ones to splash around in the kiddie pool while you rest, take in the gorgeous oceanfront view the Jacuzzi has, or simply refresh yourself in the indoor and outdoor pool. Virtually endless possibilities await you and your family with the Ocean Bay Club!
Photos of this Myrtle Beach Vacation Rental
Our Golf Accommodation Policies
Please read our Policies and Procedures located on our Condolux.net website about rentals before calling. There is information about refunds, cancellations, reservations, check-ins and other points of interest.