Ocean Blvd Villas
1401 South Perrin Dr,North Myrtle Beach, SC 29582
Ocean View 4 & 8 BR, 3 BA Unit - Accommodates up to 11!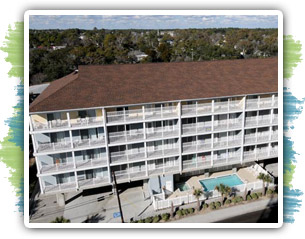 Amenities at this Condo Rental Include:
Outdoor Pool
Jacuzzi
Deluxe kitchen appliances
Extra-large balcony

NON-SMOKING UNITS
Covered parking
Elevator
HDTV
3 Charcoal Grills
Ocean Blvd Villas would make an excellent addition to your Myrtle Beach discount golf package
Description of this North Myrtle Beach Condo Rental
Perhaps one of our most expansive condo units yet, the Ocean Blvd. Villas has everything you might need to create a fantastic vacation for golf groups of any size! With eight spacious bedrooms offered that also accommodates group sizes of up to 18, any vacation type is appropriate here! If you're looking to share a vacation for a family get together, business travel, or perhaps a Myrtle Beach golf getaway, you won't be disappointed! With so many rooms available, you'll have an infinite amount of possibilities! Enjoy with you and your numerous guests our vast array of different amenities to enjoy, such as a jacuzzi, extra large balcony, covered parking, convenient elevator accessibility, HDTV, two refrigerators, and an outdoor pool. Also included is a garden tub jacuzzi located in the master suite. And it's all just a stroll away from the gorgeous Atlantic! Book a fantastic experience for you and your family members or co-workers today at Ocean Blvd. Villas! They'll greatly appreciate it!
Photos of this Condo Rental in North Myrtle Beach
Our Golf Accommodation Policies
Please read our Policies and Procedures located on our Condolux.net website about rentals before calling. There is information about refunds, cancellations, reservations, check-ins and other points of interest.