Oyster Catcher
4310 S. Ocean Blvd, North Myrtle Beach, SC 29582
Ocean view 7 BR 5 BA Home - Accommodates up to 16!
A PERFECT HOUSE FOR GOLF GROUPS!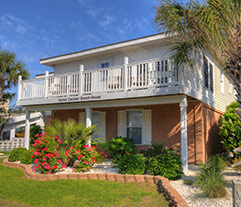 Amenities at this Vacation Home Rental Include:
Private outdoor
Brand-new outdoor Grill
Three living rooms
Washer and Dryer
New Furniture and Bedding
NON-SMOKING
Oyster Catcher Beach Home is the perfect addition to your golf package
Description of this North Myrtle Beach Vacation Rental
The Oyster Catcher Beach Home is located in gorgeous North Myrtle Beach. Able to accommodate up to 16 people, (and 8 individual beds) this Vacation Rental has all the amenities one could ask for. With the private outdoor pool, new furnishings, and much more…it's no wonder that golfers have chosen the Oyster Catcher Beach Home for their stay year after year.
Located in North Myrtle Beach, the Oyster Catcher is just a short drive to all of the area golf courses and all of the popular attractions in Myrtle Beach and North Myrtle Beach. Many of our customers have referred to the Oyster Catcher as their own private spot, making it the perfect choice for golf groups of all sizes!
Photos of this Beach Home Rental in North Myrtle Beach
Our Golf Accommodation Policies
Please read our Policies and Procedures located on our Condolux.net website about rentals before calling. There is information about refunds, cancellations, reservations, check-ins and other points of interest.