Windy Hill Dunes
3805 S Ocean Boulevard, North Myrtle Beach, SC 29582
Oceanfront 3 & 4 BR Units - Accommodates up to 12!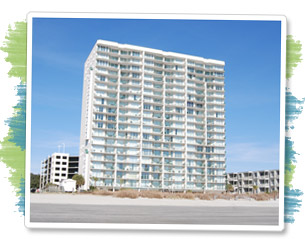 Amenities at this Condo Rental Include:
Fully equipped kitchen
Microwave
Dishwasher
Washer/Dryer in condo
Outdoor pool

NON-SMOKING UNITS
Outdoor Jacuzzi
Lazy river
Kiddie pool
Exercise facility
You can easily add Windy Hill Dunes to your golf package in Myrtle Beach
Description of this North Myrtle Beach Vacation Rental
Windy Hill Dunes combines all the best North Myrtle Beach has to offer into a memorable yet peaceful experience! The goal of this resort is to provide you a quiet retreat from the otherwise regular hustle and bustle of your life. The location presents you with convenient options; all the fun and attractions of North Myrtle Beach and Myrtle Beach are located very close, so you can easily explore them all! But that's not all, the resort itself is secluded enough for you to relax in pure tranquility. Spacious rooms with fantastic ocean views, a private balcony, fully-equipped kitchen, outdoor pool, Jacuzzi, kids' pool, lazy river, and a great fitness center are all awaiting your arrival! The vision of your perfect beach vacation will come to life at Windy Hill Dunes!
Photos of this Condo Rental in North Myrtle Beach
Our Golf Accommodation Policies
Please read our Policies and Procedures located on our Condolux.net website about rentals before calling. There is information about refunds, cancellations, reservations, check-ins and other points of interest.