Top Swing Tips Before Heading out to Myrtle Beach Golf
The Author:
NMBG Staff
Published:
December 16th, 2008
Last Updated:
October 5th, 2022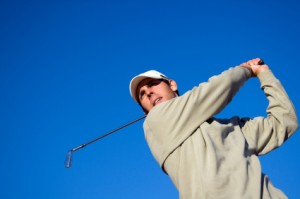 Before heading out to one of the most challenging golf courses in the United States such as a Myrtle Beach golf course, you should make sure that you have the perfect swing. Such challenging courses can become frustrating if your swing is not up to par, literally. Many people believe that it is really the short game in golf which is more important than the drive. This may be true on many levels but one's drive sets his or her confidence level. Therefore, if you start your day off on a Myrtle Beach golf course with a terrible first drive you may not enjoy yourself as much if you had hit that perfect drive. Therefore, to avoid lowering your confidence on the day you arrive to take advantage of your Myrtle Beach golf package then follow the next suggested tips on how to improve your golf swing:
Tip One: Golf is ninety percent mental and ten percent physical. You need to be mentally prepared before taking your shot. Stay positive before and after your shot even if it is not the best shot that you have ever taken. If you are defeated mentally, then you will not have a pleasant day out on the golf course.
Tip Two: There are various small movements which form a golf swing. If your hand position on the club is incorrect or you lift your head before the shot is over then you are jeopardizing the entire golf swing. Learn each of these small components which make up the shot and compare your swing to analyze where you need to improve.
Tip Three: Working with a golf pro will help you tremendously, even for just a few sessions. He or she will be able to tell you what you need to work on, how to do it and exercises that you can do to perfect your swing. However, if you do not have the resources to take a few private golf lessons, you may want to video tape your swing so that you can sit down with your golf buddies to figure out what needs to be improved, going back to Tip Two.
Tip Four: The major problem area for most people is the backswing. You should use the position known as the hitchhiker, where your thumb is directed in a hitchhiker's position. You may look in order to view the position of your thumb but remember that your eyes must always stay on the ball.
Tip Five: Keep your eye on the ball. Many people have the tendency to lift their head once contact has been made with the golf ball in order to see where it went. You should keep your eye on the ball until your swing is finished. Do not worry about not seeing where the ball went. That's why people do not play alone so that others can direct you to where your ball went.
Tip Six: Your feet should be about shoulder width apart with your knees slightly bent. Keep in mind if you are a right handed player that your weight should be kept on the inside of your right foot while left handed players should have their weight in the inside of their left foot.
Tip Seven: There are a few different grips which you can use when it comes to holding a golf club such as a baseball grip or an interlocking finger grip. Try out the different grips and see which you feel more comfortable with and which one gives you better results. At first you may not feel very comfortable with a new grip but you will adjust over time.
Tip Eight: Golf swing aids can help tremendously in achieving that perfect golf swing. They can help you with aligning your body, improving your stance and even judging the flight distance of the golf ball from your swing. Golf swing aids are available in pro shops, sporting goods stores and online.
Overall, relax when you are out on a Myrtle Beach Golf course. This is your day to live your golfing dream. And don't forget, there are plenty of Myrtle Beach golf packages to choose from at NorthMyrtleBeachGolf.com.