Historic Willbrook Plantation Golf Club challenges every Myrtle Beach golfer
The Author:
NMBG Staff
Published:
February 9th, 2009
Last Updated:
October 5th, 2022
Myrtle Beach is known for all of the courses along the Grand Strand and if you happen to read any of blog post in Craig`s Corner than you will know that I'm a big fan of the History of Golf. It does not get more historic than Willbrook Plantation, with five sets of tees, measuring 7,155 yards from the championship tees and 4,956 from the front tees.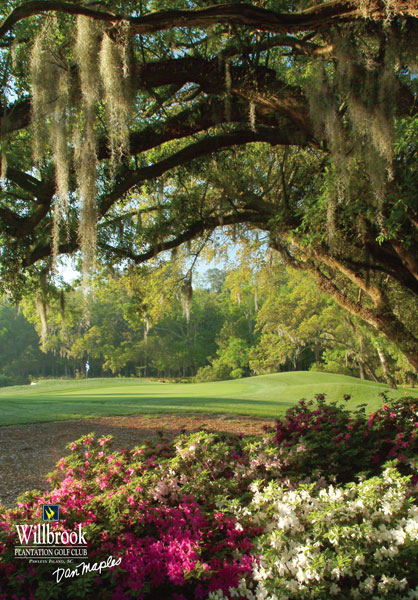 The Dan Maples design which opened in 1988 was built on two rice plantations dating back to the 18th century. Located on the south end of Myrtle Beach,  Willbrook Plantation is surrounded by  the marsh along the Waccamaw River, live oak trees draped with Spanish Moss, and a mixture of changeling holes with amazing scenery that helped win Willbrook Plantation a # 25 ranking in the "Top 50 Courses for Woman". Travelgolf.com also voted Willbrook as on of the "Top Marshy Courses for Myrtle Beach Golf".
The condition of the golf course was excellent as the over seeding took very well for the tees, fairways and greens. The course itself requires you to hit every shot in your bag. The holes are very generous off the tee with the exception of the first hole which makes you hit a laser off the tee just to have a 2nd shot, as the marsh runs down the leftside and up to the green. This great opening hole is among one of the "The 100 Greatest Holes along the Grand Strand,". Another one of these award winning holes is the Par 5, 15th hole. Along dog leg left forcing you to work the ball left to right (For any readers that have played with me know I like to hit the big draw). Your second shot is an up hill narrow hitting area over marsh to a green with a bunker guarding the front face. This intimidating hole is the #1 handicap for men and woman.
Overall, Willbrook Plantation is on my list of, must plays for Myrtle Beach golf and has slowly become a favorite of mine. From the Historical markers telling you the history of the course to the wildlife in the natural setting which was originally 2,400 acre tract of land granted by the Lords Proprietors to Robert Danial in 1711 and sold to the legendary Percival Pawley in 1722, Willbrook is a true test of golf as designer Dan Maples called it "One of My Best".
A special Thank You to the Myrtle Beach National Company, Head Golf Professional Kevin McGuire and the entire Willbrook Staff for inviting me to play.
I would also like to giving a standing ovation to Mr. Kenny Giles, Superintendent of Willbrook. The golf course was in EXCELLENT CONDITION, from tee to green.
Learn more about the Willbrook Plantation Golf Club.