Myrtle Beach Golf Fore Education tourney raises $5,000
The Author:
NMBG Staff
Published:
February 20th, 2009
Last Updated:
October 5th, 2022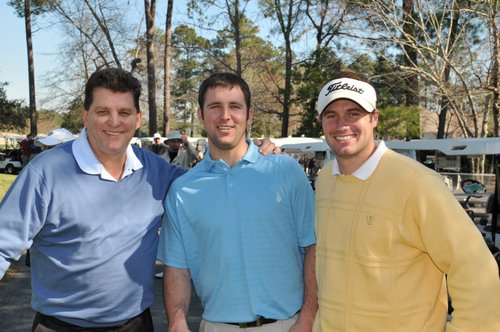 Golf Fore Education Tournament hosted by the Sun Cruz Casino and the Jack Nicklaus,  Long Bay Club on February 7th, 2009. The tournament raised more than $5000 for local high schools through donations, fundraisers and a silent auction provided by tournament promotions.com. The event was catered by Ruth Chris Steak House of Myrtle Beach and the pairings party on Friday night held on the Sun Cruz Casino with a gaming cruise that followed.
Former Heavyweight Champion James Bone Crusher Smith was also a participant in the Golf Fore Education tournament, signing autographs and posed for pictures. Kansas City Chiefs Quarterback Tyler Thigpen (pictured in the middle), also was able to attend.  Team Condolux finished third with a loss on a match of cards. The Condolux team along with Thigpen consist of Condolux owner Martin Brown(pictured left)  and Condolux Golf Directors Craig Chinn and Arnette Vereen (pictured right).
CondoLux is a Myrtle Beach condo rental and Myrtle Beach golf company, specializing in oceanfront condo rentals and golf packages. Learn more about CondoLux at www.condolux.net and www.northmyrtlebeachgolf.com.