Barefoot Golf Resort temporarily loses two courses to Myrtle Beach fires
The Author:
NMBG Staff
Published:
May 5th, 2009
Last Updated:
October 5th, 2022
An update on the status of the Barefoot courses:
The Norman Course and Dye Course will continue to be open for business as usual without damage from the fire. The Love Course will be closed to package play until May 31st and tentatively schedules to open for business on Monday June 1st barring any complications. The Fazio Course will not be available for package play for an undetermined amount of time. Updates on the Fazio will be made available on a bi-weekly basis as we receive more information on the state of the reconstruction of the infrastructure and surrounding areas.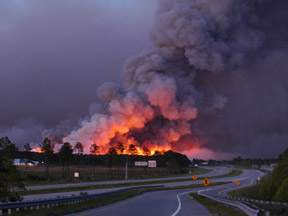 They also had to make changes to the maintenance schedule.
Aeration will begin with the:
The Dye Course Closed – May 25th PM, 26th, 27th PM (morning double tee available 25th & 27th)
The Norman Course Closed- June 1st, June 2nd, June 3rd