Burning Ridge Golf Club in Myrtle Beach is a year round Classic
The Author:
NMBG Staff
Published:
September 8th, 2009
Last Updated:
October 5th, 2022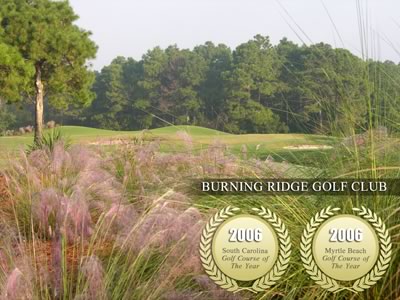 I got a chance to play the 2006 South Carolina and Myrtle Beach Golf Course of the Year over these great Labor Day weekend – Burning Ridge. With amazing Myrtle Beach weather, this Par 72 is a challenge for all skill levels. After recent renovations, managed by the Classic Golf Group and designed by Gene Hamm, Burning Ridge features fast bermuda greens guarded by bunkers on nearly every hole. Water does not come into play due to not alot of water hazards on the course. The fairways are wide with rolling mounds and give chances for BIG DRIVES.
Burning Ridge not only rates very high with the Myrtle Beach locals, it also is one of the "Top woman friendly golf course" along the Grand Strand.
Measuring just over 5700 yards, a 114 slope with a 67.3 rating from the forward tees and over 6700 yards 128 slope and 72.8 from the championship tees. All of the golf carts at Burning Ridge feature Pro Link GPS and a great practice faculty make Burning Ridge a great country club. Condition was great and their members should be proud.
Email our golf department and add Burning Ridge to your Myrtle Beach golf package.