Wedgefield Plantation Golf Course
The Author:
NMBG Staff
Published:
October 26th, 2010
Last Updated:
October 5th, 2022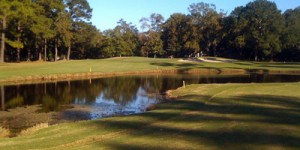 Situated on an 18th Century Black River Plantation, Wedgefield Plantation Country Club is located just north of the historic port city of Georgetown, South Carolina. The par 71 layout that features five sets of tees stretching over 7,000 yards from the Championship tee has hundreds of ancient oaks trees and views of the Black River. The golf course has been known to be haunted by a British Solider that was left to guard the plantation and was beheaded by General Francis Marion`s army in the late 1760`s.
All rounds booked through NorthMyrtleBeachGolf.com at the Historic Wedgefield Plantation will include breakfast, lunch & 2-drinks. Free Pre-Booked replays will also be included. Wedgefield is a great place to play if staying on the South End of Myrtle Beach or on the way to and from Charleston South Carolina.
Designed by J. Porter Gibson, ASGCA, the Wedgefield Plantation golf course opened in 2005. One of the most difficult holes is the par 4, 440-yard 5th. With a water hazard alongside the fairway, this treacherous hole challenges even the seasoned golfer. Wedgefield Plantation was ranked by "GOLF Magazine" as one of the "15 Best Courses in South Carolina."
Withstanding an extensive managerial overhaul, the once famed Wedgefield Plantation is primed for a resurgence. The present owners continue to develop as the Wedgefield Plantation housing sub-division and golf course both continue to grow and improve. For exclusive golf packages on Wedgefield Plantation Country Club, visit NorthMyrtleBeachGolf.com and book your rounds in advance.
Learn about other golf courses in the Myrtle Beach area.