Myrtle Beach Golf Packages 2012 Rates & Prices
The Author:
NMBG Staff
Published:
August 5th, 2011
Last Updated:
October 5th, 2022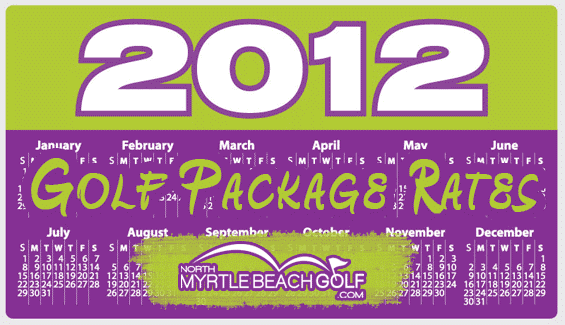 We are starting to receive Myrtle Beach golf package rates and pricing for Spring 2012 from the area golf companies and we want it available to you! We currently have single round course rates posted under The Supreme Golf Package. The Supreme is a "Build Your Own" featuring over 90 courses on the Grand Strand. Plus, we recently updated four of our golf packages with 2012 Myrtle Beach golf rates as well.
Along with The Supreme Package, The Legends Package has quickly become one our of most popular golf packages. All Single Round, Three Round and the Four + 1 FREE Round includes Breakfast, Lunch and 2-draft beers for each golfer. That pays for itself!
The Big Cats Golf Courses have changed their package from Three + 1 to a deep discounted Four Round Rate for 2012. To receive the discounted rates though, you now have to play Tigers Eye or Leopards Chase in the afternoon.
Glens Group will continue their Ultimate Glens Package offering three rounds with a Possum Trot for free AND Free Pre-Booked Replays after 1:30pm.
Also for the Spring 2012 golf season we have brought back our Super Savers Golf Package, which is our low cost budget golf package.
Let's not forget about the Barefoot golf course 2012 rates we just published as well, featuring courses from the top dogs like Fazio, Norman, Love, and Dye. And finally, the Grand Slam golf package, the one that combines a couple Barefoot courses with Caledonia or True Blue, a package for the serious golfers only!
———-
NorthMyrtleBeachGolf.com, your #1 source for the best in Myrtle Beach golf.
Tags: 2012, golf courses, golf package, golf package rates, myrtle beach golf