Myrtle Beach Golf: Marathon Style
The Author:
NMBG Staff
Published:
November 8th, 2011
Last Updated:
October 5th, 2022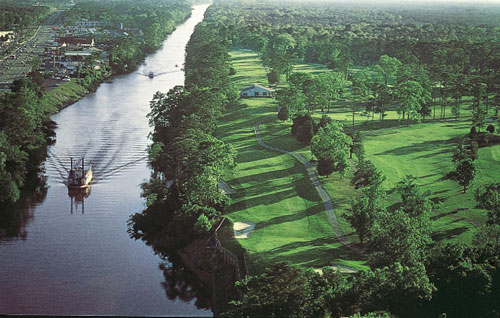 How does playing 11 rounds of golf in 11 hours sound to you? That's exactly what Mark Chapman intends on doing on Veteran's Day – November 11th, 2011.
The man behind the Myrtle Beach golf marathon is Mr. Chapman, a 42 year-old student at The Golf Academy of America – Myrtle Beach.
Mark is no stranger to a challenge, being a 21-year veteran of the Air Force and has also served in operation Iraqi Freedom.
Unsurprisingly, his efforts are all for a good cause: raising money to benefit the Salute Military Golf Association and the Wounded Warrior Project. Mark's journey will take place at Waterway Hills Golf Club in Myrtle Beach. Beginning at 6:43 a.m, he will attempt to complete 11 rounds of golf by 5:16 p.m. That's an astonishing 198 holes at a mind-blowing pace of 58 minutes per round!
Waterway Hills Golf Club is a 27-hole golf course in Myrtle Beach, designed by the legendary Robert Trent Jones, and boasts 3 separate 9-hole layouts: Oaks, Lakes and the Ravine.
However, Chapman intends on playing all 11 rounds on the Oaks Nine course. He'll have to play it a whopping 22 times to accomplish his goal.
For those of you reading this who would like to support Mark on his Myrtle Beach golf marathon, we've outlined the proper ways to do below.
Donations can be dropped off at:
Golf Academy of America (GAA)
3268 Wacamaw Blvd.
Myrtle Beach, SC 29579
(843) 236-0481
Toll Free: (800) 342-7342
Waterway Hills Golf Club
9731 N. King's Highway
Myrtle Beach, SC 29577
(843) 449-6488
Or alternatively, donations can be made online at:
Salute Military Golf Association's website – www.smga.org
Wounded Warrior Project's website – www.woundedwarriorproject.org