Top Myrtle Beach Golf Course Rankings – February 2012
The Author:
NMBG Staff
Published:
March 6th, 2012
Last Updated:
October 5th, 2022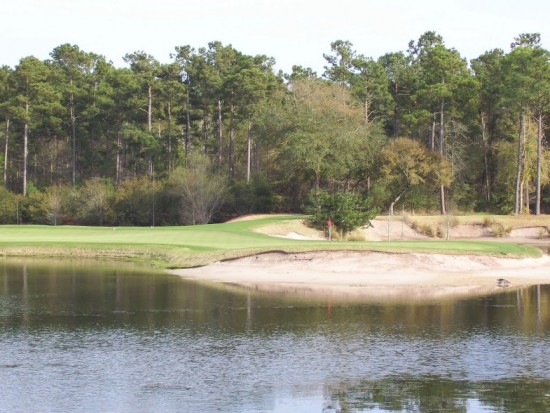 Watch out for Gators at True Blue Golf Club
Top Golf Courses for February 2012
Many golfers consider the day after Valentine's day the first day of the spring golf season in Myrtle Beach, SC. Why that particular day? Is the weather better? Are the golf courses in better shape? Well, it's a very simple theory. The majority of golfers feel, since they are going on a golf trip to Myrtle Beach with their buddies, they should spend Valentine's day with their significant other. Makes perfect sense, right? Besides, do you think golfers would tell anyone that their one true love is "The Game of Golf"?
Well, Manuel De Los Santos has no problem telling anyone that.  Watch his amazing story located at the end of this article on how the amazing game of golf changed his life and love for the game.
But, before you watch it, make sure you check out our list for the:
Top Ranked Golf Courses in Myrtle Beach, South Carolina for February 2012
1.) True Blue – The newly-crowned #1 golf course in Myrtle Beach, SC.
2.) Barefoot Fazio – Quickly climbed up the top 10 rankings since November.
3.) Willbrook Plantation – Dan Maples design that was built on the historic Rice Plantation is always in great shape and, is now managed by the newly-formed National Golf Management.
4.) Thistle – Day in and day out this Tim Cate design is considered to have the best greens on the beach.
5.) TPC of Myrtle Beach – Former host of the Senior Tour Championship.
6.) Caledonia – Great layout and views for the sister course of the new #1 True Blue.
7.) Myrtle Beach National King`s North – Debuted in the top 10 in our November rankings and as held consistently since. This Arnold Palmer design is also now apart of the National Golf Management (NGM) family.
8.) Bald Head Island – The golf course on the Grand Strand with the most ocean views and can only be reached by ferry.
9.) Tidewater – The self-proclaimed Pebble Beach of the East is back in the top 10 rankings for the first time since November 2011. Like Willbrook and Kings North, Tidewater is also now apart of the National Golf Management Team.
10.) Reserve at St James – The private Nicklaus design is a sleeper for golf courses in Myrtle Beach, hovering the top 10 on a monthly basis.
There you have it folks, the top 10 golf course list for the month of February 2012. If you have played any of the courses recently or just want to give your "two cents" and maybe help your
fellow golfers, vote for your favorite course or courses and leave a comment on the golf courses page.
I almost forgot, here is the YouTube video of Manuel De Los Santos
As always, Fairways and Greens.