Golf escapes to Myrtle become easier with eight new direct flights
The Author:
NMBG Staff
Published:
April 30th, 2012
Last Updated:
October 5th, 2022

Dream of playing the challenging links on famed Myrtle Beach courses but don't want the hassle or expense
of flying in? If you live in or near Cincinnati, Cleveland, Toledo, and Columbus, Ohio; Indianapolis; Louisville; Nashville; or Springfield, Ill., your dreams have just come closer to reality! Starting May 31 through Oct. 31, Vision Airlines will provide non-stop 737 jet service to Myrtle Beach. Fares will start at $109 each-way, including all taxes and fees, according to a recent press release from Vision Airlines.
"We are excited to welcome Vision Airlines to MYR and we are confident that the markets that they've chosen will provide terrific opportunities for both Vision Airlines and our destination," said Mike La Pier, Director of Airports, MYR. "We are pleased to partner with Vision Air to introduce all that Myrtle Beach can offer to a new and much greater audience," added La Pier.
In the past, passengers traveling to Myrtle Beach have had to endure long layovers, hours in the car, very expensive fares, and flying on cramped regional jets. Vision Airlines' non-stop, big jet, Boeing 737 service will save passengers time and money. And it's PERFECT for golfers too that want to come in for a weekend visit and hop back out for our fall 2012 golf season. (check out the packages below)
Vision Airlines has been in operation for more than 18 years offering low-cost flights to the most popular leisure destinations.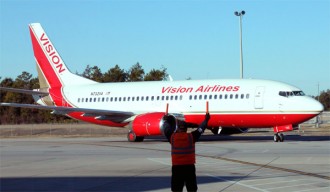 "Vision Airlines' new, non-stop flights to Myrtle Beach are another step in providing low-cost air service to fantastic vacation destinations. The great golf courses and family-friendly beaches make Myrtle Beach an excellent vacation value," said David Meers, Senior Vice President of Vision Airlines. "Vision Airlines' non-stop, big jet, Boeing 737 service will save passengers time and money, making flying a more attractive option for traveling to Myrtle Beach this summer."
Tickets and information are available at www.VisionAirlines.com or through the Vision Airlines Call Center at 1-877-FLY-A-JET (1-877-359-2538).
After you have chosen your flight, consider one of these exciting golf getaway packages for a long weekend – fly in, play and fly out!
Sea Trail – 3 Rounds – Free Lunch at clubhouse each day and Free Replays
In nearby Sunset Beach, NC the Rees Jones course boasts generous mounded fairways, bordered by scenic lakes and water hazards on 11 holes, old oaks and towering pine trees.
Legends – 3 Rounds – Free Breakfast, Free Lunch and 2 Beers at Clubhouse each day
The Scottish-inspired Legends Golf and Resort offers five of the best golf courses available in the Myrtle Beach area and the state of South Carolina.
Mystical – 3 Rounds – Free Lunch & 2 Beers at Clubhouse each day
The Wizard, The Witch and Man 'O War golf courses are run by Mystical Golf, headed up by Claude Pardue. Each of the three courses has its own unique clubhouse, theme and look. And the golf courses, though two share the same property, are completely different as well.
For details on these packages, give us a call!
We look forward to seeing you soon!
Tags: Condolux, escape, getaway, Golf, Myrtle Beach, ocean, vacation