Wow…..Save Up To $30 Bucks PER GOLFER at TPC this Fall 2012
The Author:
NMBG Staff
Published:
July 2nd, 2012
Last Updated:
October 5th, 2022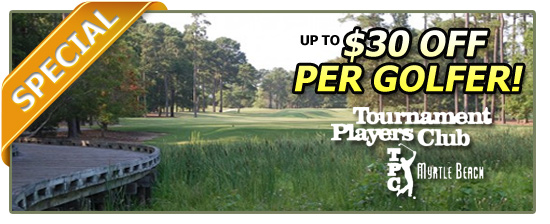 FALL TPC DEAL!

09/16/12
10/03/12
$73
10/04/12
11/04/12
$78
11/05/12
11/18/12
 $68
11/19/12
01/16/13
 $53
  Prices include all taxes, carts and fees.
The only 5-Star golf course in Myrtle Beach is offering savings up to $30 off per golfer for the Fall 2012 Myrtle Beach golf season. The TPC of Myrtle Beach, voted by Golf Digest as the only 5-star golf course along the Grand Strand, is now allowing golfer and early booking incentive. The special will run for tee times booked before September 15th.
This means the earlier you book, the more you save. After September 15, this course is going to be back at normal rate prices, so time is of the essence!  This course was designed by Tom Fazio and Lanny Watkins,  and, at one time, hosted the Senior PGA Tour Championship. It's also the home facility of current PGA professional Dustin Johnson.
Want to book?  Give us a call 800-624-6418 or shoot us an email! Simple as that.
TPC (Tournament Players Club) of Myrtle Beach is located in Murrells Inlet, which makes it home to quite a bit of wildlife along your 7000 yard, 18-hole journey as well. We're talking about wild turkey, deer, and even gators.