The World AM Returns to Myrtle Beach for 2012
The Author:
NMBG Staff
Published:
August 27th, 2012
Last Updated:
October 5th, 2022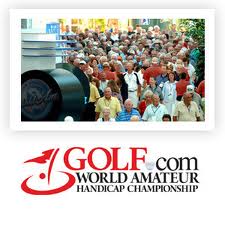 The time has come again for the world's largest amateur golf tournament in the world – Golf.com's 2012 World Amateur Championship. This golf tournament has been held in Myrtle Beach, SC for 29 years, but started in 1984 with 684 participants. Since its humble beginnings, the World AM has grown to over 3,000 golfers from all 50 states and over 20 countries.
How is the World AM Structured?
The World AM has six divisions, ranging from men and woman under 49, all the way to super seniors 70 and older. In the six divisions are 60 to 70 flights. The flights are handicapped and one winner from each flight will move on to the "Flight Winners Playoffs"; an 18-hole shootout that will determine the World Amateur Champion. This year, the Tournament Players Club of Myrtle Beach is the host golf course for the championship.
The 19th Hole: A Must Visit:
Although the golf is excellent, the World AM has another event associated with the tournament – the "Worlds Largest 19th Hole"a.k.a "Worlds Largest Cocktail Party". Held nightly at the Myrtle Beach Convention Center, it's where golfers who participated in the World AM (and their registered guests) come to share their experiences of the day and look for their names, hopefully at the top of the leader board.
The 2012 Food Lineup for "The World's Largest 19th Hole:
As if this even wasn't already awesome enough, they've outdone themselves by having a catering lineup that is sure to make everyone envious.
Monday – August 27th: Tilted Kilt
Tuesday – August 28th: Rioz
Wednesday – August 29th: Senor Frogs
Thursday – August 30th: Capriz Italian Feast
EACH NIGHT – Friendly's will be providing ice cream & Domino's will be serving pizza.
Featured Exhibitor:
We'll be on scene, documenting our first-hand experience of the events taking place throughout the week.