August 2012: Top Ranked Courses in Myrtle Beach, SC
The Author:
NMBG Staff
Published:
September 3rd, 2012
Last Updated:
October 5th, 2022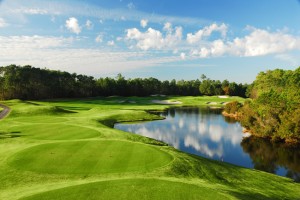 The Summer has come and gone and not only was it hot, the area golf courses have gotten alot of rain. With all of the rain, the courses should have their ponds full and preparing for the Fall golf season. The fall golf season in Myrtle Beach, South Carolina runs from the beginning of September to mid November. According to myrtlebeachweather.com, the average air temperatures in the fall is 85 degrees in September, 77 degrees in October and 69 degrees in November.
We will have to see how it all plays out with the 2012 Hurricane Season and see what happens. So lets get down to business with why you are here.
List of the top 10 golf courses in Myrtle Beach for August 2012:
1) Caledonia Golf & Fish Club – For the second consecutive month Caledonia Golf & Fish Club has been voted the #1 golf course in Myrtle Beach.
2) Tidewater Golf Club – Moved up from the #3 spot and closing in on Caledonia.
3) The Dunes Club – Moved up from #4 and is believed to have the first ever signature hole. #13 Waterloo
4) True Blue – Dropped two spots, just flat out hard.
5) Barefoot Resort – The Dye Club – remains in the 5th spot for the second consecutive month. One of most difficult courses along the grand strand.
6) Myrtle Beach National – Kings North – Considered by locals to be the best course
in Myrtle Beach. Kings North recently reopened with Champions Ultra Dwarf.
7) Thistle Golf Club – Making a move from the 10th spot to the 7th spot. The Thistle Golf Club may be Tim Cates best design.
8) TPC of Myrtle Beach – One of three Tom Fazio designs in Myrtle Beach. The TPC of Myrtle Beach is this years host of the Championship Round for
the Golf.com World Amateur Championship.
9) Pawleys Plantation – Designed by Jack Nicklaus, Pawleys Plantation has great marsh views and is a shot makers course. In fact, Jack Nicklaus was quoted saying that he made Pawleys Plantation to difficult for the members.
10) Wild Wing – Avocet – Making its top 10 debut, Wild Wing is a great layout and the only remaining 18-course out of the four course plantation.
There you have it, the top 10 courses in Myrtle Beach for August 2012. Make sure you vote for your favorite Myrtle Beach Golf Course.
As always, fairways and greens.
@mbgolfpro