Booking Golf: The TRUTH about Online vs. With A Golf Director
The Author:
NMBG Staff
Published:
June 4th, 2013
Last Updated:
October 5th, 2022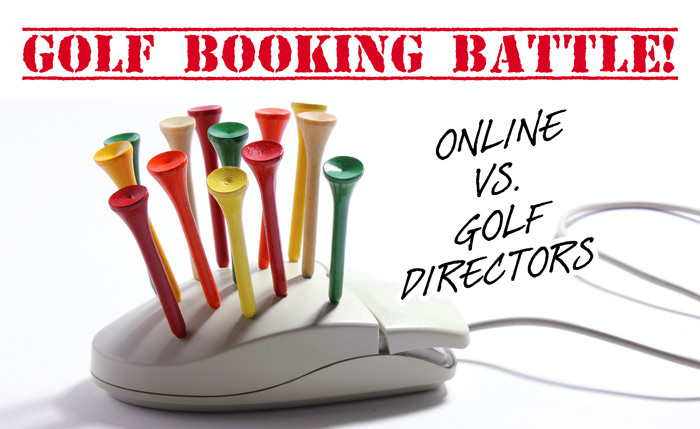 With the world dependent upon online technology and the need for quick and easy computer transactions, it's easy to get caught up in the fluff surrounding online booking, ESPECIALLY booking golf packages online. But did you know that booking golf is a pretty intense process? The rate structures, the a.m. and p.m. price differences, the maintenance schedules, course conditions, and much more are all things that need to be addressed by the guy or gal actually BOOKING your golf package. And rest assured, you can't PROGRAM that stuff into a computer.
All in all, you really should TALK with somebody on the phone before booking any package. You could miss out on some nice price savings or even worse, you could have a pretty horrible golf trip that COULD have been avoided.
The DIFFERENCES, Plain & Simple
Online sites may not be the way you would like to go. Here are a few things you may want to look at before booking.
1. What are the course conditions like?
Golf courses throughout the year go through changes. These changes can be due to many variables, such as weather, excessive play, and unforeseen circumstances such as irrigation issues. When booking tee times online without speaking to a golf director, make sure to call the courses, if a number is available, and hope the course gives you an honest response to your questions. We golf directors get the inside scoop from our golfers. They may not report their bad condition experience directly to the course, but will be HONEST with their golf director.
2. What maintenance is scheduled before, during, or after my selected dates?
When booking online, most systems will not tell you if courses will be under maintenance or just coming off of maintenance. Good greens are important to golfers and no golfer wants to play on a course that has just aerified their greens or just put brand new greens in. Greens, tees, and fairways need time to heal after re-sodding and aerification processes. Usually 2 to 3 weeks is ample healing time for these processes.
3. Do I get a discount if I book more than one round with certain particular courses?
After going online and trying to create my own package on…um… other undisclosed websites, I was amazed at the price I was given for certain courses. I am not going to say what courses I wanted to play, but I chose a 5-round package and selected my courses. The online site was $97 higher per golfer than if booked through me! As stated before, all those weird stipulations have to be programmed in and sometimes it's just not accurate. If you think about it, we have over 90 courses in the area, all with different rates. That's a lot of programming! So the human element disconnect here is VERY important.
4. Does it matter what time of day I play, and will this affect my pricing?
Time of day most certainly does matter. If you play certain courses before 8:15 or 8:30, depending on the course, you can get a reduced rate. If you play courses on a Monday through Wednesday, you can get a reduced rate. PM rates (rates after 12 noon) are usually cheaper. Also 48-hour rates (also known as last minute rates) can also save you a ton of money. The only drawback to the 48-hour rate is that the tee time has to be booked within 48 hours, so on busy courses or in the busy season you may not get the desired tee time you would like.
5. If I book an accommodations with my golf package do I get a discount?
Here at www.northmyrtlebeachgolf.com, we offer each guest staying with us a discount on their unit if they book their golf with us. The discount can be a little as 13% off of the base rate or as much as 25% off of the base rate. It all depends on the unit and the time of year each group is wanting to book.
6. Do I get a discount if I bring a certain amount of golfers?
Golf courses would like to reward the leaders of groups who bring larger size groups to their courses. Some courses give free golf if you bring 16 or more golfers, some offer it to the 20th golfer. Some courses offer free green fees only. Every little bit helps when you are bringing in large groups.
These are just a few things you as a golfer or group leader need to look at when booking your next golf package – whether it's here in Myrtle Beach or any other golf destination. If you have any other questions or would like additional information on the above topics, feel free to call us.