LONG BAY CLUB IN NORTH MYRTLE BEACH
The Author:
NMBG Staff
Published:
July 19th, 2008
Last Updated:
October 5th, 2022
I was able to squeeze in an emergency 18 at Long Bay Club this week. A true test of golf at one of three, Jack Nicklaus designs on the Grand Strand. Measuring over 7,000 yards from the back, Long Bay is a Semi Private golf club with a slope of 140!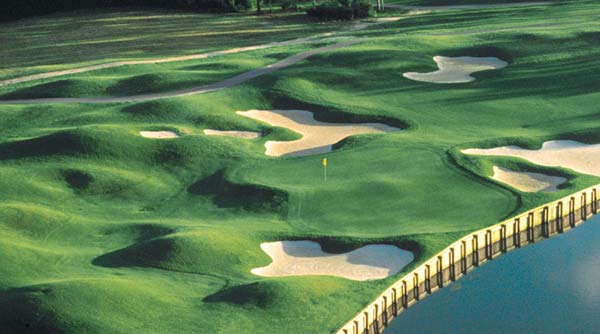 The golf course from tee to green was in excellent condition! Long Bay is one of the most famous courses in Myrtle Beach, staking its claim with the HUGE man made mounds boarding Highway 9, that everyone has passed one time or another on their way to North Myrtle Beach since its opening in 1988.
The Golden Bear, started designing this course after his 1986 Masters win. However, thats not the main reason Long Bay is one of the most famous courses in Myrtle Beach. This Nicklaus design has hosted tournaments like the Carolinas Open, the Myrtle Beach Open, NCAA regional championships and the U.S. Senior Open qualifying just to name a few.
Long Bay also has four holes that have been voted as the "The 100 Greatest Holes along the Grand Strand". No. 7, 10 (Pictured below) , 13 and 18
The Par 3 #13, which features an Island Green could be another one of many signature holes at Long Bay. The scenic Par 3 has a huge green. Depending on pin placement and wind will determine your club selection. That seems to be the trend at the Par 72 Layout, which features big undulating Tiff Dwarf greens, fairways guarded by waste areas which double as carts path and a well conditioned facility with a fully stocked Pro Shop.
The Golden Bear has designed 265 courses open for play worldwide. The Long Bay Club in North Myrtle Beach, SC is one of his best.
Longs, SC 29568
Tags: golf course, long bay, north myrtle beach