Wednesday, August 8th, 2012

I got a chance to slide down to the south end of the Grand Strand and play the Jack Nicklaus designed Pawley's Plantation on Saturday July 28th. This was the first time playing this course for me in over 15 years and never again will I wait that long to play that beautiful layout again.
Two friends accompanied me for our 12:28 tee time, and from the time we got there we all were impressed — from the staff, to the conditions, even down to the chili dog we got at the snack bar.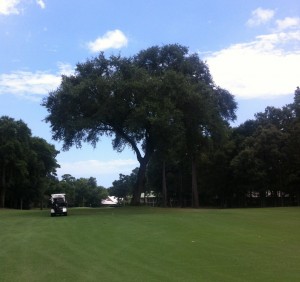 We met Laura in the proshop, who was very nice and accommodating. She got us settled in right away. After a quick hot dog for lunch we met up with a starter named Anthony who was very personable with a great attitude and even let me borrow his yardage book for the round. Anthony paired us up with one of their young members Mr. Tim Gavrich who was a collegiate golfer at Washington and Lee in Lexington Virginia. Tim not only was an excellent player but was able to give some local course knowledge and some helpful hints for getting around the tough Pawley's Plantation layout. The course from tee to green was in excellent shape and well manicured even in remote areas that most golf balls should never see.
Holes 12,13,and 14 had to be probably my favorite 3 hole stretch on the course. Hole #12 is a picturesque par four with marsh views and coastal winds behind the green that can make your approach shot difficult. If you make it through this hole with par you then quickly have to turn your attention to as short par 3 measuring 145 yards that requires you to hit a pure golf shot or you will be having to use the drop area green side (which looked like it had been used quite a bit ). The par 5 15th hole was absolutely stunning and want another chance at it as soon as possible. Unfortunately, I was unable to play the holes following 14 due to a lightening and rainstorm that lasted the next 3 hours, a pretty rare display of the weather conditions in Myrtle Beach. Overall I put his course in my Top 10 places to play along the Grand Strand. I want to thank everyone at Pawleys Plantation for everything they did. I thoroughly enjoyed the day and hope to be back soon to tackle all 18 holes.
You can play Pawleys Plantation as part of the new National Golf Package this fall for a nice rate. This course is actually in our top 10 golf courses as well for July! And of course, you can check out the photos I took in our photo gallery on the Pawley's Platation golf course page.