Friday, June 29th, 2012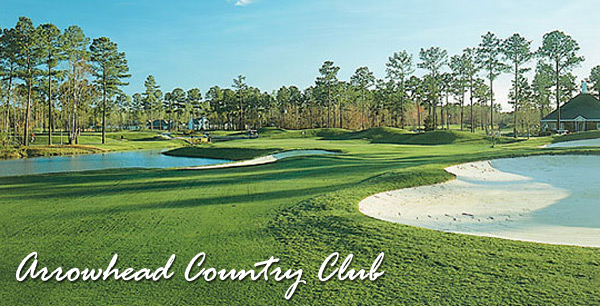 Arrowhead Country Club located in Myrtle Beach offers great value and challenges all levels of golfers. The Ray Floyd signature golf course boost 27-holes with each nine having its own unique feel.  In 2009, the Cypress, Lakes and Waterway nines converted to Mini Verde Ultra Dwarf Bermuda grass greens. An exceptionally good grass for the Myrtle Beach area providing consistent putting surfaces. Mini Verde Bermuda is rated as one of the Top Grass Putting surfaces by the National Turf-grass Evaluation Program.  Arrowhead Country Club offers four sets of tees, wide undulating fairways, strategically placed waste bunkers, large greens and as mentioned before, great putting surfaces.
Arrowhead is not only fun to play, it also is very scenic with IntraCoastal Waterway views and has water on 24 of the 27 holes.  I highly recommend this course, as it is also known for its great condition. With the 27-holes, Arrowhead will always have 18-holes open to allow golfers the best playing conditions. Make sure to add Arrowhead C.C. to your golf package. Its @MBGolfPro approved!!!!!
As always, Fairways & Greens
@MBGolfPro