Save up to $30 PER golfer this Spring 2012 at TPC of Myrtle Beach
The Author:
NMBG Staff
Published:
January 20th, 2012
Last Updated:
October 5th, 2022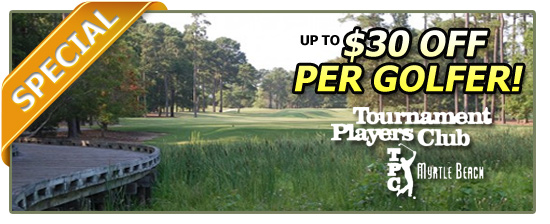 TPC of Myrtle Beach

3/8/12
3/21/12
$127am
$105pm
$105mw
3/22/12
5/20/12
$133am
$123pm
$123mw
We've just been passed a new discount for the TPC of Myrtle Beach golf course and I want to pass it along to my golfers out there! It's actually a pretty sweet golf deal for Spring 2012 golf rounds and applies to golf in PEAK seasons. The discounted Myrtle Beach golf only tee times on the rate table to the right are per golfer and includes carts, taxes and fees. (The price you see on there is the price you pay per golfer, we don't tack on any hidden fees.)
The special has two rate periods. The first saves golfers up $17 per golfer on AM rounds from 3/8/12 to 3/21/12 and the second saves golfers up to $30 per golfer on AM rounds from 3/22/2012 to 5/20/2012.
For more information and pictures of the TPC of Myrtle Beach, visit our TPC of Myrtle Beach Page.
Want to book?  Give us a call 800-624-6418 or shoot us an email! Simple as that.
 About TPC of Myrtle Beach Golf Course
Nestled in a beautiful setting near the small community of Murrells Inlet, South Carolina, the 18-hole course is the only Grand Strand golf course to be rated as a 5-star course by Golf Digest.
With a unique design planned and executed by the well-known Thomas Fazio intended to convey the feeling of playing on a tour-caliber golf course, TPC is almost 7,000 yards long with a par of 72. Featuring a slope rating of 145, and an overall rating of 74, the sumptuous course opened to golfers in 1999.
Stylistically, the design incorporates typical Southern environmental features like wetland areas and flora such as cat-tail and huge pine trees. Any golfer will enjoy the experience of the TPC of Myrtle Beach course with its exceptionally gorgeous and groomed fairways and greens, all set in the warmly hospitable Southern surroundings that only the Carolinas can offer.
Tags: golf course, tom fazio, tpc of myrtle beach, tpc. golf special