MBN West Course: Must play for Summer/Fall 2012
The Author:
NMBG Staff
Published:
February 8th, 2012
Last Updated:
October 5th, 2022
With the 2012 Myrtle Beach golf season rapidly approaching (approximately February 15th), it's time to start thinking about your "Must Play" courses list.
The Myrtle Beach National West course deserves a nice little spot on every golfers list this season. Why, you ask? Let me begin my recommendation by dropping some knowledge on you about the 'ol MBN West course.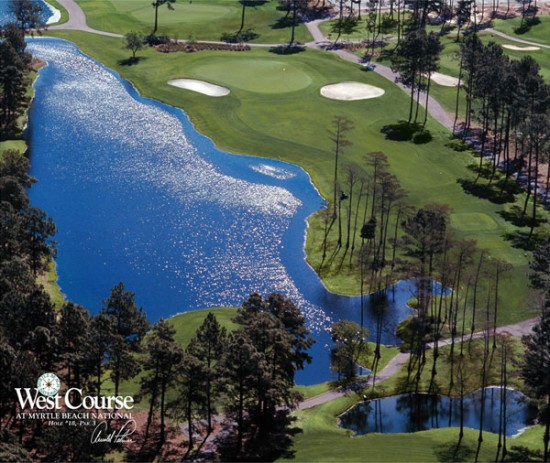 Designed by the one and only Mr. Arnold Palmer himself, the first round commenced in 1974 when the golf course first opened its doors to the public. The MBN West course has a slope of 126 and a rating of 72.6. Boasting 18 pine-covered holes that prove to be challenging, yet enjoyable for golfers of any skill level. Also, this Myrtle Beach golf course transitioned from bent grass greens to mini verde greens in July of 2011.
Now that we got that out of the way, let's talk about the main detail that really matters: Price. The specials and discounts that the Myrtle Beach National West course have provided us with for the 2012 golf season is borderline ridiculous.
Here's the mouth-watering line-up:
1.) Book a round before 8:15am and receive 50% off of the regular rate.
Yeah, we said fifty percent off. This works out pretty well for those of you who strategically plan your rounds in the morning to avoid the afternoon heat during the summer months.
2.) MBN West course is part of the Myrtle Beach National "Master's Collection" 4 +1 & 6+1 packages.
So, what exactly is the Myrtle Beach National 4+1 and 6+1 golf package? Basically, you're able to play the West course in addition to 4 rounds at other prime time golf courses. Of the 14 golf courses you're able to choose from for your 4 additional rounds, here are a few of the most notable: MBN King's North, MBN Southcreek, Willbrook Plantation and River Club.
3.) You can receive
20% off of the regular rate for morning and afternoon tee-times.
If you're only looking to play one or two rounds of golf during your trip to Myrtle Beach, adding MBN West to your agenda would be a smart move.
As of writing this article, AM tee-times are still available, but are filling up quickly. Feel free to call in and speak to one of our golf directors, and we'll get you setup.
**Keep in mind that the MBN West course does indeed double tee. Please read more about double teeing and what it means for you.