Hippity Hop! Myrtle Beach Easter Golf Specials 2012
The Author:
NMBG Staff
Published:
March 23rd, 2012
Last Updated:
October 5th, 2022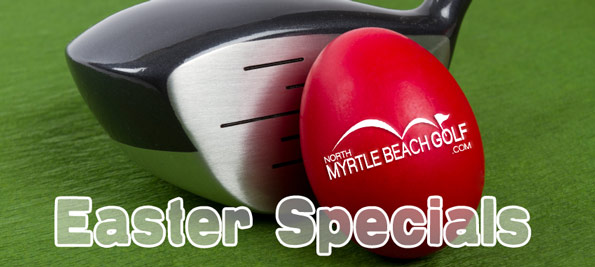 With the Easter Holiday for 2012 just around the corner, we have last minute golf specials at several participating golf courses in Myrtle Beach. These Easter deals can save up to $35 per golfer at 23 Prime Time courses and up to $60 on Four Barefoot Resort Courses. These Signature courses includes three courses that are in our
Top 10 Golf Course Rankings, Willbrook Plantation currently ranked #3 and Tidewater Golf Club currently ranked #5 and the Barefoot Fazio currently ranked #7. Not only do they include Top Ranked Myrtle Beach Courses, but also courses designed by the games best, including Arnold Palmer, Pete Dye, Greg Norman, Dan Maples, Davis Love III, and Jack Nicklaus to name a few. (Oh, and FYI, Davis Love III will be playing in the 2012 Monday after the Masters Golf  Tournament in Myrtle Beach on April 9.)
All of these Easter 2012 golf specials include  include Greens, Carts, Taxes and Fees in the rates below.
Valid on Tee Times Booked NOW Until April 11 – LIMITED AVAILABILITY
South Creek, West Course, Waterway Hills, Aberdeen, Arcadian Shores, Meadowlands, Myrtlewood, River Hills
Play ANY of these courses above for $59 a.m., $49 midweek and/or p.m. (Save 25 bucks per golfer!)
Litchfield, Tradition Club, Blackmoor, Wachesaw East, Farmstead
Play ANY of these courses above for $71 a.m., $56 midweek and/or p.m. (Save 25 bucks per golfer!)
Long Bay, River Club, Wild Wing Plantation
Play ANY of these courses above for $76 a.m., $58 midweek and/or p.m. (Save 30 bucks per golfer!)
Willbrook Plantation, Pawley's Plantation, Pine Lakes
Play ANY of these courses above for $88 a.m., $65 midweek and/or p.m. (Save 30 bucks per golfer!)
King's North, Grande Dunes Resort Course, Tidewater
Play ANY of these courses above for $97 a.m., $67 midweek and/or p.m. (Save 35 bucks per golfer!)
As an added bonus, KIDS PLAY FREE on these courses during this special. (Ages 16 and under. One child per paying adult. Learn more about rates for kids.)
Barefoot Golf & Resort Easter Deal (April 4 to April 11, 2012)
Valid on Tee Times Booked NOW Until April 11 – LIMITED AVAILABILITY
Barefoot Love, Barefoot Fazio, Barefoot Norman, Barefoot Dye
Play ANY of these courses above for $153 a.m., $128 midweek (Save up to 55 bucks per golfer!)
SPECIAL Wednesday Rate: $93 a.m. and p.m. (Save up to 90 bucks per golfer!)
Tags: 2012, easter, golf deals, golf specials