Tidewater Golf Course: A True Southern Golfing Experience
The Author:
NMBG Staff
Published:
July 25th, 2011
Last Updated:
October 5th, 2022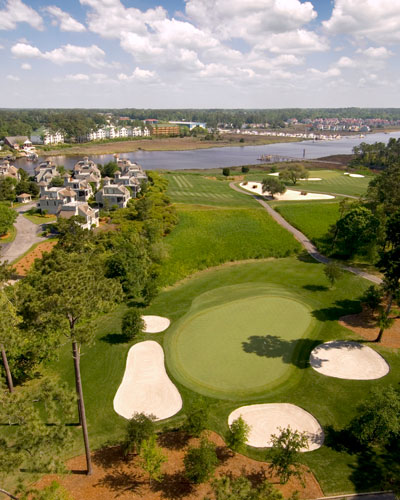 As of recently, Tidewater golf course has been making moves to the top of our
Top 10 Ranked Golf Courses in Myrtle Beach
list, and is currently ranked #8. I recently had the opportunity to play 18 holes at
Tidewater Golf Club & Plantation
, which is quietly tucked away in beautiful North Myrtle Beach, SC. Upon first arrival to the Tidewater community, you're immediately greeted by the friendly people at the guard gate that provide you with entrance authorization and a parking pass. Along the your short drive to the clubhouse, you'll appreciate the forest-like landscape of this community that is extremely well-kept, as well as the gorgeous homes and condos that are encompassed within.

As you approach the very first tee, passing the driving range and practice putting green area, you'll immediately understand what Tidewater golf course is truly about. Boasting mostly narrow fairways with tattered sand bunkers,fast greens that are closely guarded by sand traps; this course can definitely prove to be a challenging one, but not so difficult that it will leave the average golfer throwing clubs and ready to swear off the game of golf for life. I believe this is one of the many reasons that people choose Tidewater as one of the top 10 golf courses in the Grand Strand.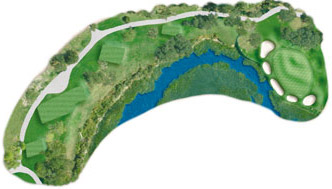 The most memorable hole on this golf course for me was #12. This happens to be Tidewater's signature hole, and upon my approach I immediately realized why. Hole #12 is an intimidating 149yd par 3 (from the whites), strategically surrounded almost entirely by sand on the front and right side of the green. Your eyes will definitely trick you on this hole, leading you to believe it is really closer than it is. With the wind coming off of the ocean, you definitely need to analyze how you want to make your approach. I couldn't help but to be captivated by the stunning views of the low-country marsh and gorgeous homes located directly across the way. Don't be surprised if you find yourself forgetting completely about the game of golf, and simply spending a few minutes admiring the view. This is truly what golf in South Carolina is all about.
All-in-all, Tidewater golf course is one my absolute favorites of the Grand Strand. It's kept in immaculate condition, it can challenge highly-skilled golfers, and accommodate the average golfer as well. In my opinion, this is an absolute must play for anybody looking to golf in Myrtle Beach or the North Myrtle Beach area. Although it is one of the more higher-priced golf courses in the area, it is undoubtedly worth it.
1) Don't forget your camera: You'll want to capture the amazing views of the ocean and marsh. Have your camera/phone ready, you don't want to hold up the group behind you!
2) Bring your own water: Tidewater golf course doesn't have water-filled coolers. Although, the rangers/beverage cart will occasionally make it's way to you and offer water, I found it easier to bring my own. The golf carts are equipped with coolers.
3) Pay attention to the screen on the golf cart: Each golf cart is equipped with a digital scorecard and gps. It will provide you with hole details, ability to keep score, weather updates, request a new cart, and order food for the turn.
4) Bring extra golf balls: If you're an average golfer, Tidewater can eat through your golf ball stash pretty quickly if you're having an off day.
GOLF ACCOMMODATIONS NEAR TIDEWATER GOLF COURSE:
Prince Resort

Cherry Grove Villas
Key West Beach House
REMEMBER
: Visit our
Tidewater Golf Course page
for current course conditions, current rates, in-depth course details and golfer reviews.