Early Bird Gets The Worm on National Golf Courses – 35% off
The Author:
NMBG Staff
Published:
August 16th, 2012
Last Updated:
October 5th, 2022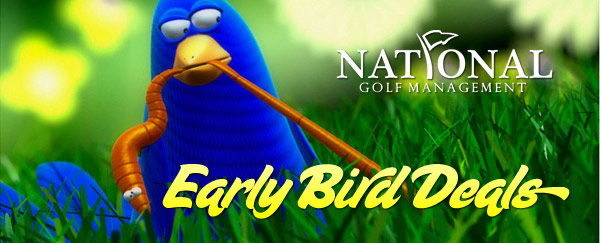 The Early Bird gets the worm on National Golf Management courses for the Fall 2012 golf season in Myrtle Beach. Golfers will have the option to play before 8:15am and save 35% off the regular rate. YES, 35% off the regular rate! Choose from over 20 courses designed by some of golf`s best architects, such as Jack Nicklaus, Arnold Palmer, Gary Player and Rees Jones.
The Quick Facts on this Deal:
1) You MUST book for the fall before September 16.
2) This is only applicable to tee times before 8:15 a.m. on play dates from September 6 to November 18.
3) Fall is, hands down, the MOST POPULAR time to play golf in Myrtle Beach.
You better reserve early to get these primo tee-times.
A few of the courses available for this special are the newly renovated MBN-Kings North, Pawleys Plantation, Blackmoor and the Long Bay Club, over 16 more. You can see the full the list of courses on our National Golf Management page.